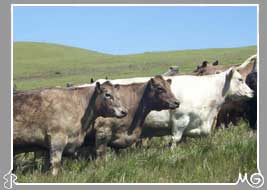 As some have heard, we plan on downsizing so are offering some females we never planned to sell.

We offer a 10% discount on six or more and a 20% discount on 20 or more to a single buyer.

This is a great opportunity to get some of the best Australian, US, and Canadian bloodlines and leverage genetics not for sale anywhere else.

Use the MENU at Left or LINKS below:

ALL COWS FOR SALE WITH SLIDESHOW

Call us and lets talk about Murray Greys (925-456-4774)

We also sell semen from high-quality Murray Grey bulls, so please don't hesitate to inquire. If it is embryos you are interested in, call and let's talk about what traits you desire. We generally implant the majority of our embryos for use in our herd but will provide them frozen for sale.

Currently, we do not have any Komondors available. However, if you are interested, we could put you on a waiting list.

We look forward to hearing from you.