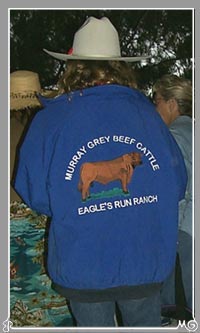 Herd health is very important at Eagles Run Ranch. Healthy livestock benefit us and our customers. We follow a rigorous health protocol and will stand behind the health of our cattle. We will provide our customers all information on health procedures (vaccinations, minerals, PI testing, Johnes testing) for livestock they purchase.

The steps we take to ensure a healthy herd are important. Equally important are the things we don't do. We don't use implants of any kind. We do not use prophylactic (general use to ward of illness) antibotics.

Our herd health program has five major components:

Vaccination Program: Eagles Run Ranch has a comprehensive vaccination program to protect against disease in our livestock. At regular and appropriate points, all stock are innoculated against, E. coli, rota virus, corona virus, Clostridial diseases, and IBR, BVD, PI3 and BRSV. We use the most effective modified live vaccines for IBR, BVD, PI3 and BRSV.

Mineral Supplementation: Copper and selenium deficiencies are common in California. We have had good results using selenium and copper boluses given once per year. Additionally, we provide free choice CRYSTALYX®, a low-moisture block supplement for livestock, featuring a nutrient-dense blend of molasses solids, proteins, hydrolyzed vegetable oil, vitamins, minerals and trace minerals.

PI BVD Prevention: Persistent infection (PI) is the most difficult component of BVD to control. We have a simple mechanism to keep persistently Infected BVD animals out of our herd. We have tested all cattle on the ranch and test all calves within a month of birth. Since BVD can be passed across fence lines, a closed herd and high quality vaccination program are not the only lines of defense against this serious threat to livestock health. A lot of current information is available in print and web cattle resources, but here is one web link that provides a useful overview: BEEF magazine article

Johnes Certification: Eagles Run Ranch participates in the California Voluntary Johne's Disease Program and has achieved Level 3 Certification which has required testing of all breeding animals with a negative result for Johne's for these animals. Johne's disease (pronounced "yo-knees") is a contagious, chronic and usually fatal infection that affects primarily the small intestine of ruminants. Johne's disease usually enters a herd when healthy but infected animals are introduced to the herd. Precautions to prevent introduction of Johne's disease include keeping a closed herd, or requiring replacement animals come from test negative herds. Johne's Information Center

Closed Herd: Eagles Run Ranch has a closed herd meaning that we do not bring outside animals into our program. This prevents the introduction of disease into a remarkably healthy 100+ animal herd. To continue to improve and diversify our bloodlines, we rely extensively on AI and embryo implant.