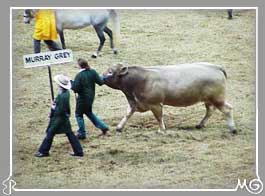 The Murray Grey breed is admittedly not well known in the US. Many people mistake them for Charolais due to the silver color. However, the Murray Grey has a grey or black skin which is so important to protect against cancer eye and sunburned udders. The silver reflects the sun, resulting in an unusual ability to withstand extreme heat. The Murray Grey cow is known for her outstanding maternal characteristics and high production of milk for her calves. The calves are born at a moderate birthweight, lively and active from birth. Murray Grey cattle are quiet, easily handled cattle who adapt to new environments and settle well. "Murray Greys handle stress, they settle quickly, and quietly get on with the job of converting feed into quality beef. It's a bonus that they possess the genetics for carcass quality and are natural polls" said one feedlot operator.

Murray Greys are considered by many to be the most efficient breed in the world. They will produce more quality beef per acre of land and will require the least expensive feed, labor, and fencing. In Australia, Murray Greys excel in finishing of grass making them very attractive to the emerging US market for grass-fed beef. The Australian cattle industry was build on pasture and Australian cattle were bred to reproduce, perform and finish in both good and bad times.

We, at Eagles Run Ranch, would like to introduce you to Murray Greys. Please call, email or visit us so we can tell you more about the breed.