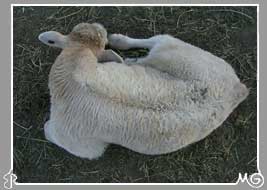 With 60 mother cows, we have a lot of calves. Most calves are born healthy, strong and unassisted. We make extensive use of artifical insemination (AI) and embryo implant as well as using quality bulls. Some of the AI sires are described in the herdsire section of this website as are the embryo donors described in the donor section.

Each calf is weighed at birth on a professional cattle scale to ensure accuracy. Gestation length is calculated when known (as in AI or embryo implant). In addition to weighing and tagging calves at birth, weights at the 200, 400 and 600 day intervals are provided to Breedplan for performance recording.

We follow a strict herd health program and have a closed herd, thereby minimizing the risk of disease. All calves are checked for BVD PI and fully vaccinated. All calves are tattooed and registered, with the exception of those which may not meet our performance standards for breeding quality.

Calves are the product of every cow-calf operation and we are proud of the quality of our product. Pictures of some of our calves are shown on the slideshow.