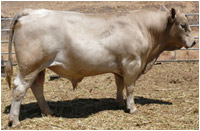 Bull tests can provide valuable information to breeders and buyers. Most bull tests have similar goals: to identify high performing bulls within a breed compared to their peers. Buyers are looking for bulls which outperform their peers and which have the ability to pass that higher performance on to his progeny.

Bull tests are highly disciplined programs treating all bulls exactly the same. Most bull tests have long ago moved away from grain-based programs to roughage-based programs. Clearly the goal is to provide animals that can that can be tested in conditions that are similar to most ranch conditions and to aid the purchased bull-test bull to transition seamlessly to a working environment. The operators of bull tests know that every bull sold following a bull test must meet the buyer's expectation so they focus on important aspects for the commercial cattlemen.

Midland Bull Test recently implemented a feed efficiency grading (RFI) to identify those bulls which require less feed to produce a pound of gain. The primary reason we have beef cattle is to convert roughage, and identifying the most efficient cattle for this trait is a real value-add from the bull test. Rather than go into Residual Feed Intake in detail on this page, please select this link to find out more about RFI. A negative number is greater feed efficiency. For those interested in efficient cattle, this is very interesting. We believe that RFI will become an increasingly measured performance trait in the cattle business.

In addition to RFI, other important performance metrics provided by bull tests are:
Breeding Soundness including semen testing, scrotal circumference and examination of the breeding parts
Gain in terms of ADG (pounds of gain per day)
Ultrasound with measurements for fat cover, ribeye size (REA) and % intramuscular fat
EBVs or EPDs for key traits (how the bull scores compared to other measured bulls in the breed)
Actual Birthweight, weaning weight, yearling weight and $ index scores (see breed indexes page)
Structure score
All bulls are scored and ranked for all of these measured traits. Then a bull test score is provided which takes into account the key measurements identified in the test. Most bulls sales only offer for sale bulls which are in the top 50% across the board. This example is the final data from a bull owned by H Diamond Cattle company which was part of the 2009 Midland Bull Test.
Bull
#
DOB
Sire
BW
EPD
WW
EPD
Milk
EPD
YW
EPD
BW
205
WGT
Final
WGT
ADG
ADG
RAT
WDA
365
WGT

YRL
Ratio
RFI
Test
Rank
SCR
CIR
1278
2/26/08
ER High Roller
2.0
17
4
26
83
728
1165
3.24
123
3.11
1246
112
-0.97
110
38